Queer Filipinx multidisciplinary writers, scholars, and artists Angela Peñaredondo, Dr. Pau Abustan, Anna Luisa Petrisko, and Dr. MT Vallartacome together to excavate and reconnect with their queer and trans roots of Philippine mythology.
From the vicious viscera sucker known as the manananggal, to the witchy and mischievous mangkukulam, Filipinx mythological figures have been critical sources of sexual empowerment, gender transgression, and crip futurity in Filipinx storytelling. Under Spanish and U.S. rule of the Philippines, these monstrous and aberrant figures were deemed a threat to the colonial imaginary, as structurally "queer" to the normative colonial state. In resistance to this conduct of power, this event will center story and art as portals to queer and crip ways of being and examine how these mythic figures function as radical actors across Filipinx American history. In doing so, the program helps foster cross-temporal understanding of Philippine mythology and advocates for storytelling and artmaking not only as survival, but as critical and creative decolonial praxes essential to liberatory world-making.
This cross-genre reading will be followed by an immersive social hour where guests can listen to music, dance, and/or engage with each other to the futurist, synth-mythic sounds of our electronic music DJ.
Participant Bios
---
Angela Peñaredondo is a queer Filipinx, interdisciplinary writer, artist-scholar and educator whose hybrid literary works bridges feminist of color and queer pedagogical practices rooted in critical race, social and transformative justice. They are authors of nature felt but never apprehended (Noemi Press), All Things Lose Thousands of Times (Inlandia Institute, winner of a Hillary Gravendyke Book Prize) and the chapbook Maroon (Jammi Publishing).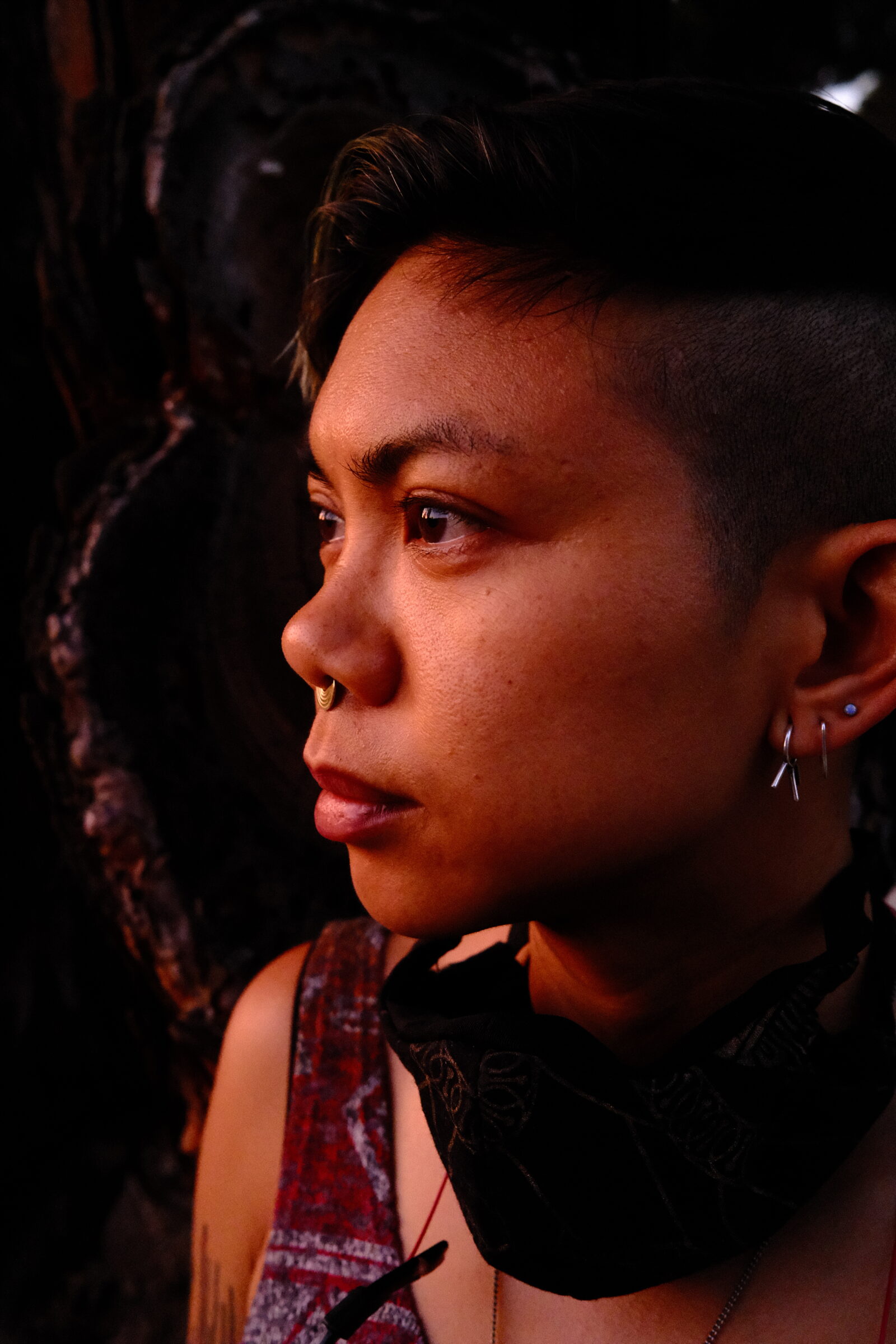 ---
Dr. Pau Abustan (they/siya) is a queer, crip, gender fluid, and decolonial Pilipinx scholar-activist-educator who centers queer critical race feminist disability justice worldmaking in youth centered learning, animated storytelling, and activisms. They are an Assistant Professor of Women's, Gender, and Sexuality Studies at Cal State Los Angeles (Tongva lands). https://www.paulinaabustan.com/
---
Anna Luisa Petrisko works in sound, video, performance, installation, textiles, and interactive media. Her art is invested in the sacred as much as it is interested in technological speculation, exploring future and ancient ideas at a non-linear tempo. She investigates the body as a site of paradox – transcendent of time, space and form. Her intersectional identities as filipino and queer are reflected in her multidimensional practice. Her work is grounded in community and archiving histories. She collaborates with many artists and friends. These shared works build relationships and cultural communion.
---
Dr. MT Vallarta is a poet and Assistant Professor of Ethnic Studies at California Polytechnic State University, San Luis Obispo. They are the author of the poetry collection, What You Refuse to Remember (Small Harbor), and the microchapbook, The Science of Flowers (Blanket Sea). A Pushcart Prize nominee, they have received awards, scholarships, and fellowships from Kundíman, Roots. Wounds. Words., the Rowan Foundation, and others. They received their Ph.D. in Ethnic Studies from the University of California, Riverside.
---
This program is organized by Dr. MT Vallarta as part of the 2023 Circa: Queer Histories Festival, presented by One Institute. William Grant Still Arts Center is a facility of the City of Los Angeles Department of Cultural Affairs.
Founded in 1977, William Grant Still Arts Center is a facility of the City of Los Angeles Department of Cultural Affairs offering summer camp, creative workshops, music and art classes for adults and youth, an exhibition space, concerts, and places for community meetings and the neighborhood to come together.