Collected Poems is an evening of collective anthologizing, where invited writers and artists will gather to read work by someone other than themselves. Curated and hosted by Sarah Yanni, the lineup includes Ivanna Baranova, Anna Christian, Sophia Le Fraga, Sofia Fey, Christine Imperial, EJ Marcus, James Moon, Joseph Mosconi, Angela Peñaredondo, hannah rubin, Daniel Spielberger, and Simone Zapata.
These readers have been invited to read writing by a queer voice who has influenced them, or perhaps a non-queer writer whose words were of critical personal importance, or maybe the lyrics to a song that was listened to on repeat during their very first queer love. The options are fluid, and this event is centered on the understanding that we do not exist in isolation––our queer journeys are layered, both individual and collective, and undoubtedly informed by the words of others.
Collected Poems will be an evening of knowledge sharing that gives audiences worlds and words to ponder long after; creating an anthology by us, for us. All selected poems and passages will be collected in advance and compiled into a zine, which will be available to take away at the event.
This program may not be suitable for all ages.
About the Programmers
---
Sofia Fey is a Queer and Trans writer living in LA. Currently, they are the poetry editor at Hooligan Magazine. Their work has appeared in American Poetry Review, Poet Lore, The Sonora Review, and others. They love to beat their friends at Mario Party. They tweet @sofiafeycreates.
---
Sophia Le Fraga is the author of SNACKS, The Anti-Plays, literallydead, I RL, YOU RL, I DON'T WANT ANYTHING TO DO WITH THE INTERNET, and the artist book Other Titles by Sophia Le Fraga. The founding editor of No Issue, she has exhibited or performed at the MOCA, MoMA PS1, Camden Arts Center, and PERFORMA15. Her work has been featured in Best American Experimental Writing, The Cut, BOMB Magazine, ELLE, VICE, Texte zur Kunst, and Dazed.
---
Joseph Mosconi is a writer and taxonomist based in Los Angeles. A former Google computational linguist, he is currently the executive director of the Poetic Research Bureau, a co-founder and programmer at 2220 Arts+Archives, and an editor at Make Now Books. His books include Ashenfolk, Fright Catalog, Demon Miso/Fashion in Child, and various chapbooks.
---
Angela Peñaredondo is a queer Filipinx L.A. based interdisciplinary writer, artist-scholar and educator. They are author of nature felt but never apprehended (Noemi Press), All Things Lose Thousands of Times (Inlandia Institute, winner of a Hillary Gravendyke Book Prize) and the chapbook Maroon (Jammi Publishing). They are a recipient of fellowships and awards from Hedgebrook, Kundiman, Macondo, TinHouse, among many others.
---
Anna Christian is a poet and filmmaker from northeast Kansas. She lives and shoots hoops in Los Angeles.
---
Christine Imperial is a Ph.D. Cultural Studies student at UC Davis. Her debut book Mistaken for an Empire is published with Mad Creek Books as the 2021 Gournay Prize Winner. She holds an MFA in Creative Writing from CalArts. Her writing has appeared in POETRY, Poets and Writers, Inverted Syntax, among others.
---
Simone Zapata is a poet and educator based in Oakland, CA. Her work has been featured or is forthcoming in Beloit Poetry Journal, Foglifter, The Quarterless Review, and elsewhere. She has received fellowships from Community of Writers and the REEF residency, and she was a finalist for the 2021 Nightboat Poetry Prize and 2022 Lighthouse Emerging Writer Fellowship. She holds an MFA from CalArts, and currently serves as a poetry editor for MAYDAY Magazine.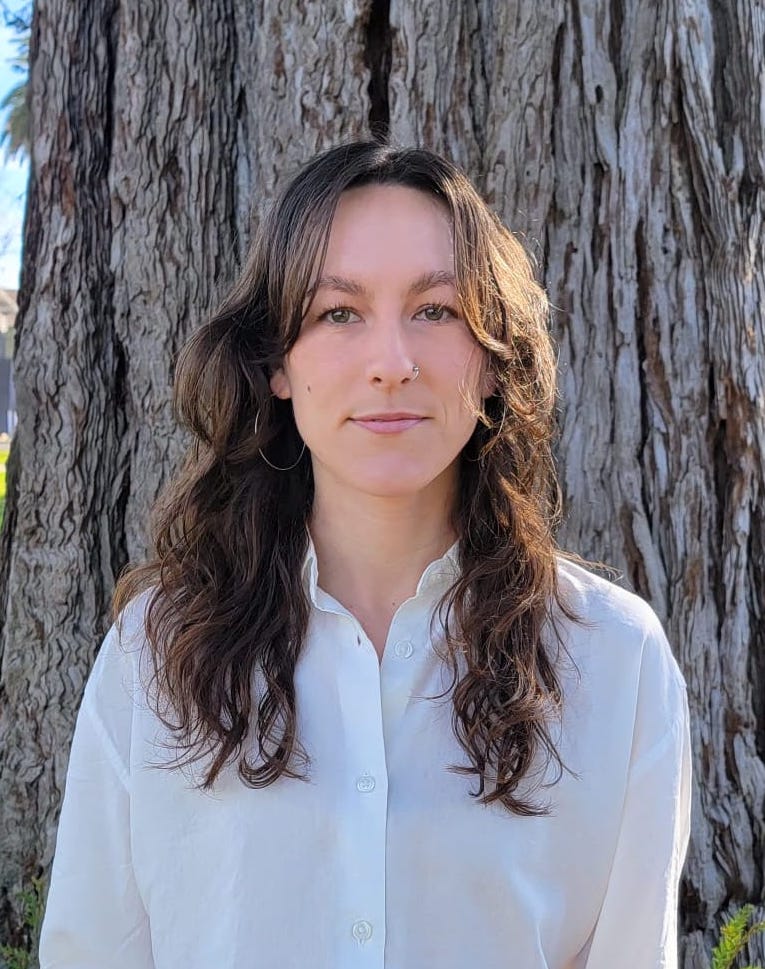 ---
James O. Moon is an artist and writer based in LA. He recently moved from New York. He mostly draws gay dogs.
---
Sarah Yanni has been recognized as a Finalist for BOMB Magazine's Poetry Contest, the Andres Montoya Letras Latinas Poetry Prize, and others, and was most recently a Finalist to be the Poet Laureate of Glendale, CA. A Best of the Net Nominee, she is the author of the chapbook ternura / tenderness (Bottlecap Press) and has received fellowships from Community of Writers and the California Institute of the Arts. She serves as Poetry Editor for The Dry River and Managing Editor of TQR.
---
hannah rubin is a writer, poet, artist, and educator based in Los Angeles. Their writing about queer ecology and trans relationships has appeared in F Magazine, The Seventh Wave, Artforum, Canthius, and the Berkeley Poetry Review, among other publications and anthologies. Their work has been supported by Tin House, Lambda Literary Foundation, The Truman Capote Literary Trust, California Institute of the Arts, The Jack Kerouac School of Disembodied Poetics, The Seventh Wave and The Center for Craft. They live in Los Angeles, where they run sticky poetry club, edit for smoke and mold, and are at work on a collection of short fictions.
---
Ivanna Baranova is a writer living in Los Angeles. She is the author of Confirmation Bias (Metatron Press) and Continuum (forthcoming, Metatron Press). Her work has appeared in Blush Lit, Cixous72, DIAGRAM, Newest York, Peace On Earth Review, and elsewhere. She is the Creative Communications Coordinator at the Poetry Project.
---
EJ Marcus is an LA-based actor, writer and comedian whose work has been featured on USA Today, Funny Or Die, Bustle, and The Face. He starred in a Heinz Ketchup commercial as Toby the Vegetarian Vampire. He also takes himself seriously enough to read and admire poetry. He is very complex.
---
Hannah Tishkoff is an artist, writer and aspiring primatologist from Los Angeles, CA. Recent exhibitions have been held with Quarters Gallery and The Museum of Everyday Life.
---
Max Stone is a trans, queer poet from Reno, Nevada. He holds an MFA in poetry and a BA in English with a minor in Book Arts and Publication from the University of Nevada, Reno. He was born and raised in Reno, but has lived in various other places including New York City, where he played soccer at Queens College. Max is passionate about building the literary community in Reno and frequently organizes poetry readings. He is the author of two chapbooks: The Bisexual Lighting Makes Everyone Beautiful (Ghost City Press, 2023) and Temporary Preparations (Bottlecap Press, 2023). His work appears in & Change, fifth wheel press, The Meadow, Bender Zine, just femme & dandy, Night Coffee Lit, Caustic Frolic, Black Moon Magazine, and elsewhere.
---
This program is organized by Sarah Yanni as part of the 2023 Circa: Queer Histories Festival, presented by One Institute. This program is co-presented with the Los Angeles LGBT Center.
The Los Angeles LGBT Center is a safe and welcoming place where the LGBTQ+ community finds help, hope, and support when it is needed the most.